The church of St Mary and All Saints, Hawksworth, is the featured church for October 2023. The small village of Hawksworth is 11 km (7 miles) south-west of Newark.
The church comprises a west tower, nave, north aisle, chancel, and a combined vestry and organ chamber.
The tower is of two stages, buttressed and has a crenellated parapet. The upper stage is of brick and dates from the 17th century; the lowest stage is of stone and is 13th century.
An early-mid 12th century tympanum has been re-set into the south wall of the tower. It depicts the Adoration of the Cross and has a Latin inscription that reads: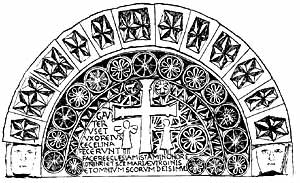 GAVTERVS ET VXOR EIVS CECELINA FECERVNT FACERE EC[LE]SIAM ISTAM IN ONORE D(OMI)NI N(OST)RI E[T] S(AN) C(T)E MARIÆ VIRGINIS E[T] OMNIVM S(AN)C(T) ORVM DEI SIMVL
This can be translated as 'Walter and his wife Cecelina caused this church to be made in honour of our Lord and of Saint Mary the Virgin and all of God's saints likewise'.
The stone nave was rebuilt in 1812-13, the north aisle rebuilt and widened in 1837 and the chancel rebuilt by the rector, the Rev G. H. Smyttan, in 1851.
Both chancel and tower arches are from the 13th century.
The 3-bay north arcade has round piers with matching responds, octagonal plinths and moulded bases and 19th century Romanesque-style capitals with waterleaf, cable moulding and strapwork.
The east window depicts various scenes of Jesus' life and is probably by William Wailes. It is likely to date from the rebuilding of the chancel in 1851.
The Anglo-Saxon cross shaft fragment standing upright on the ground floor of the tower has now been identified as one of the most complete Anglo-Saxon grave covers of the mid-Kesteven type in Nottinghamshire. It dates from the late 10th-early 11th century and is 1.8 m (6 ft) tall decorated with crosses and interlace.
Further information on the church can be found at the Southwell and Nottingham Church History Project website.